Shortage of medicine in the news headline in Spain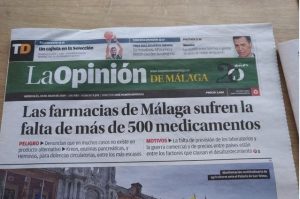 One of our cheeky friends who was enjoying herself on holiday in Spain, not far from Malaga, simply woke up and could not resist informing us of the incredible news.When she went out to get her bread, she read the local newspaper and she experienced a kind of "déjà vu" moment, just like in France.
The downfall has already started and it is obviously not only in our country.In a global economic world, the downfall will be globalized… and that's not good news.

On the front page of the Spanish newspaper « Opinion of Malaga » was published: "the pharmacies in Malaga suffer from a lack of over 500 drugs.
According to our friends' pharmacists and our readers of this site, the number is more or less the same as in France.
Charles Sannat
Source: insolentiae